10 Selling Tips on eBay
|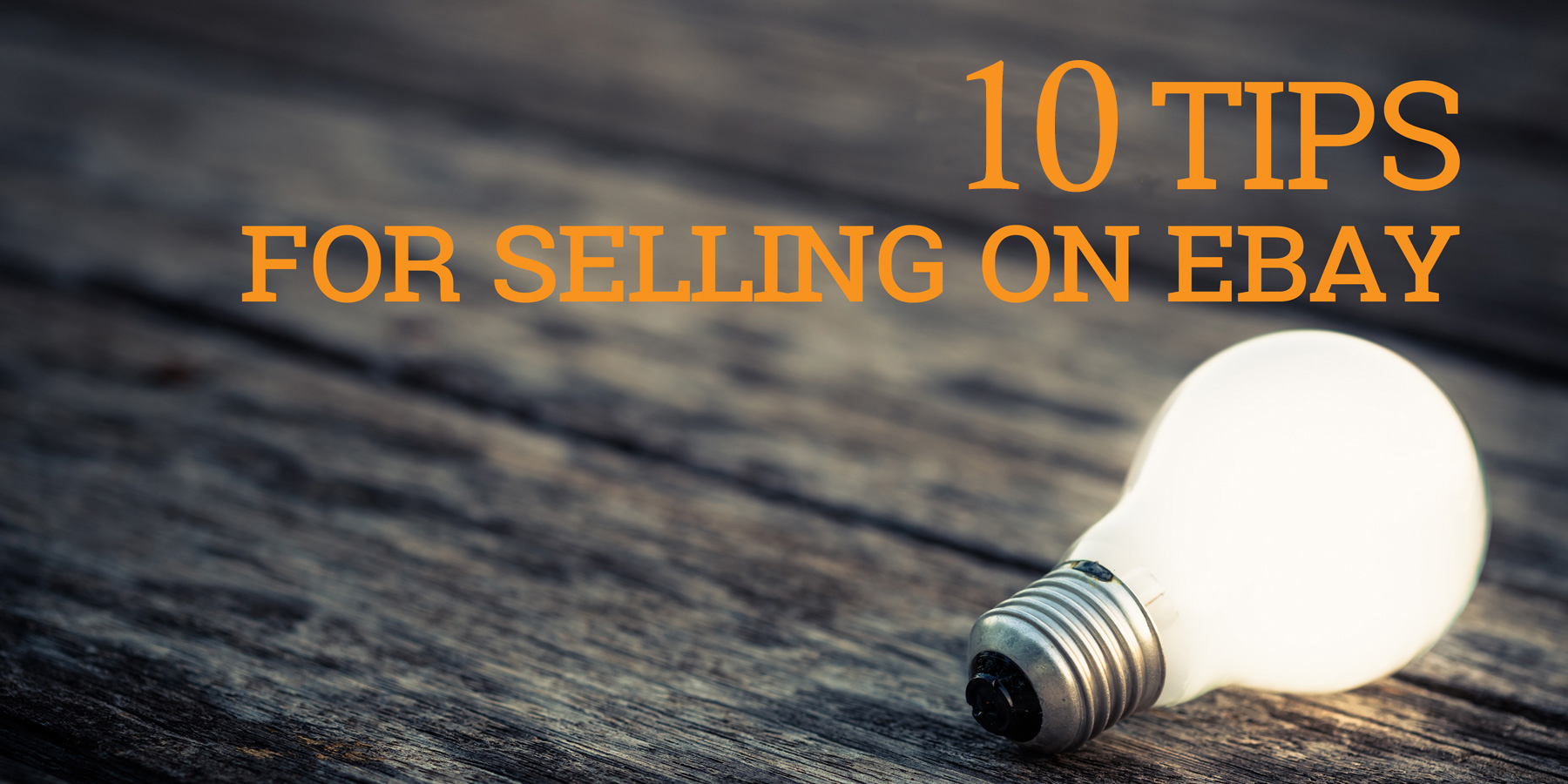 eBay is one of the top 10 most trafficked sites on the entire Internet, so it's no wonder that there are unlimited business opportunities and challenges for eBay sellers. Here we list some critical advice to help you sell more and grow your business on eBay.
1.Two simple rules for success on eBay
Here is the secret to long term success on eBay (or any other business). The sooner you start applying these two rules to sell on eBay, the faster you'll grow a successful business.
1.Make your customer happy
2.If the customer is an asshole and you feel like it's unfair to make him happy – see rule NO.1
No matter what kind of hard case you face, just be SMART, instead of being RIGHT, swallow your pride and make the customer HAPPY! If this is beyond your strength – think seriously about building a customer oriented business, it will take a too high of a toll from you!
2.A quality picture is worth 1000 words
It's old-fashioned, but people still like to see things before they buy them. For successful eBay selling, make sure any products you list on eBay are accompanied by professional quality photographs that meet eBay's photo requirements. (Note that all listings must have photos now.)
Photos used on eBay must be a minimum length of 500 pixels for the longest side, have no borders, and have no text or artwork added (such as a seller's logo). You may use watermarks and in fact, eBay has its own watermark creation service – if you don't use theirs, be sure your watermarks conform with eBay's rules. As of this writing, you can still use stock photos, but only for brand-new items, not "as the primary photo for used items; exceptions are the Books, Movies, Music, and Video Game categories".
In addition, it is essential that potential buyers see a picture of your item when it is displayed during search results or when the buyer is browsing. You need to catch the buyer's eye when they are scrolling through the list of auctions. They may pass right over your auction if you don't have a gallery picture. Be sure the gallery picture shows everything that is included in the auction.
3.Do your eBay research before listing
When selling on eBay, before you list a particular product, spend some time researching other similar products on eBay and following the bidding process. This will help you gauge the interest for your product and help you determine how much your product might be worth.
Final selling prices for common items don't actually vary that much. Do your research beforehand and you'll have a good idea of what bid your item should end at, regardless of a 99 cent starting bit. Use the advanced search feature, make sure completed listings is checked, and see what turns up. Items in green sold successfully, items in red did not.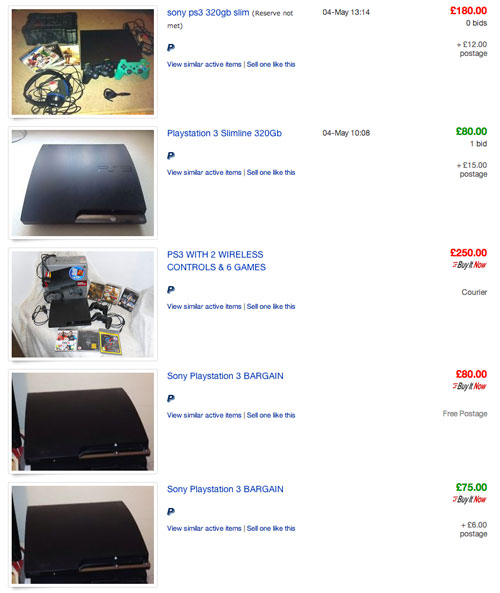 4.Consider Search Keywords in Titles
When listing your item on eBay, choose your wording carefully and use the right keywords. Keep your title concise, but use as many descriptive words as you effectively can, so that your item will appear in more searches. The more descriptive you are, the fewer questions you'll have to deal with from possible buyers. To find the right keywords, consider all of the terms you might use to describe the item, and then fit the words together. For example, instead of "Xbox 360," use "Xbox 360 Video Game Console System Controllers." Do a search in eBay to look for examples of similar listings with a lot of activity.
5.Get the Right Suppliers
Don't test new dropship suppliers on your real customers and get the right suppliers for your long term business on eBay. Before cooperated with new dropship suppliers, test them with "dummy" orders to friends and family across the world, if everything goes smooth – Awesome, start working with the supplier. If not – You just saved yourself from a lot of negative feedback, headache and a possible suspension from eBay.
6.Create a professional listing
For selling on eBay, you need a powerful listing. And the trick to writing a strong eBay listing is to combine search engine friendly phrasing with concrete details about the product in a way that will entice people to bid on your product. Take the time to craft your eBay listing just as you would any ad.
With any business, the more professional you look, the more people will trust you. Make sure you have good pictures of your item and a clear, well-written description. You can save time by using eBay's listing generator and saving a sleek, organized template for your listings.
A bulleted list in your description will be very attractive for potential bidders. You'll catch more attention with short, informative lines that don't waste time or take up a lot of space. And don't overdo categorization. You'll have to pay extra to list your item in multiple categories, so unless you're selling for $500 or more, just pick the best category.
7.Buy a few things to get some feedback
Every member of eBay has a feedback score based on their trading experience. The number is a combination or both buying and selling transactions. The more feedback you have, the more trusted and authentic you appear as a community member. It is very difficult to get sales with a low feedback score.
If your account is new and you have less than 20 feedbacks, you can earn feedback by buying a few inexpensive items so that sellers can rate you. Buy things you will actually use like small cosmetics, office supplies, stickers for your kids, or dog treats. (Don't waste money just to get feedback!) After receiving an item in satisfactory condition, leave feedback for your seller and ask that they leave it for you. Twenty feedbacks is a good solid number to have before trying to sell anything.
8.Offer PayPal Payment
If you don't have a PayPal account, get one. It offers security and protection for the buyer – and if you refuse to use PayPal on some kind of moral grounds, you really shouldn't be selling things online. A listing which specifically doesn't accept PayPal is perceived at worst to be untrustworthy, at best more bother than it's worth. UK sellers – you don't have a choice anyway, PayPal is a requirement.
9.Package and Ship Items Properly
When you ship, make sure that you pack fragile items securely. Invest in some bubble wrap or styrofoam peanuts (you can get a good deal by buying in bulk) or just use some newspaper if you're in a pinch. If you have a paper shredder, you can shred up some old magazines to use as stuffing. While you're protecting the item, remember that some packages get wet in the rain during shipping, so protect clothing, books, and other sensitive items from the elements by wrapping with plastic bags or other padding material.
10.Offer a Fair Return Policy
Many new sellers don't like the idea of offering a return policy, but under the eBay Guarantee, all sellers have one whether they like it or not. eBay wants buyers to feel confident purchasing on the site, so they guarantee that if an item isn't as described or doesn't arrive, they buyer will get a refund. As a seller, you want to do everything possible to outperform the competition and persuade a buyer to choose your listing over the competitors.
eBay rewards sellers who offer a 30-day or longer return policy by giving them a boost in search results. So if you have a 30-day return policy, you will automatically place higher in search than a seller who does not offer one. This is an easy way to get some free SEO. You can include this verbiage in your return policy:
Item must be returned in original condition, new in package if applicable.
This disclaimer keeps you from being scammed. And if your item is returned just as you shipped it out, just go back to your Sold Item folder, and hit re-list and it is up for sale again. Easy, peasy! Returns are a part of being a seller, so accept it and keep listing.