2-in-1 20cm Braid Data Charging Cable for iPhone Samsung – White
|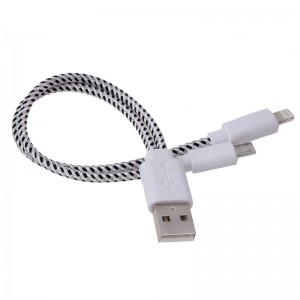 Wholesale 2-in-1 20cm Braid Data Charging Cable for iPhone Samsung – White
Wholesale Price: £0.62
MOQ: 20pcs
Time-Limited Promotion

(Jul.15th~Jul.30th – 15% off – In stock in warehouse)
iPad 5(Air) 360 Rotation Case + Screen Film + Touch Screen Pen Multi-color Optional
Before: £3.66 Now: £3.11
MOQ: 10PCS
Product Description:
2-in-1 20cm Braid Data Charging Cable for iPhone 5/6 Samsung – White. Quick charging, anti-interference and save data transmission.
Features:
1.100% New with high quality
2.The cord layer adopts high quality nylon, it features high strength and very durable
3.Combine the function of data transmission and power charging
4.Supper purity copper conductor ensures a high speed transmission and charging
Specifications:
1.Material: Mylon/ Copper
2.Weight: Approx. 14g
3.Connector: 8 pin / Micro USB
4.Length: 20cm
Includes:
1 x Data Charging Cable

Contact information :
Company: AULOLA(UK)LTD.
MSN: aulolacouk@hotmail.com
E-mail:sales@aulola.co.uk
Skype:aulola.com
Notice:If you have some problems on finding a product or have some questions about the price you can contact us here.