4 Best Value Android TV Boxes 2017 – Buyer's Guide
|
There are so many kinds of Android TV boxes in the market, and many people want to find the best one with good value for price. So do I.
That's why I decided to make a list as below. After my research from Amazon and the test, I will show you 4 Best Value Android TV Boxes with the unit price lower than £100, for your guys' reference.
By the way, I am not a senior tester, so I will pay more attention to my using feeling, as a normal user.
| | | | | | |
| --- | --- | --- | --- | --- | --- |
| Device Name | OS | Processor | RAM/ROM | Recommend Level | |
| Amazon Fire | Android 4.0.3 | Media Tek | 1GB/8GB | ★★★★ | |
| Minix NEO U1 | Android 5.1.1 | Amlogic S905 | 2GB/16GB | ★★★ | |
| MXQ PRO | Android 5.1 | Amlogic S905 | 1GB/8GB | ★★★★★ | |
| MXIII | Android 4.4.2 | Amlogic S802 | 2GB/8GB | ★★★ | |

1. Amazon Fire – the most popular Android TV Box
I could say that Amazon Fire TV box has been the most popular TV box in the market so far, so I consider this one as my first choice. This is the most popular Android TV Box for Amazon prime members.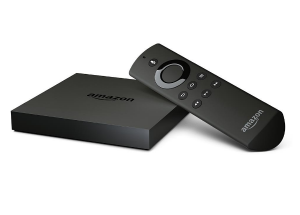 Amazon Fire TV box is designed with quad-core Media Tek CPU, which supports H.265 decoding and 4K HD streaming at beyond 30 fps, to perform faster than before. The 2GB RAM provides enough media and gaming capacity and the 8GB standard storage could be expanded to 128GB via micro SD. The Gigabit LAN supports 4K ultra HD video streaming to play smoothly. The voice-command remote operate quickly through Wi-Fi connection.
Besides, if you are a member of Amazon Prime, you are available to enjoy many free contents from Amazon's catalog. There are most options of 4K movies and shows to bring you a colorful, legible and wonderful impression of watching.
And, the price is relatively affordable. I compared the prices of different streaming media box capable of 4K playback in Amazon and found that the price of Amazon Fire TV box is relatively affordable and acceptable by most of people.
The below is my feeling of using this TV box. This device is well made with complete assembly parts and easy to set up with TV. The remote is quite smooth to use, and I really enjoy the voice-command function, although it could only works with Amazon. The video streaming quality is quite good, too.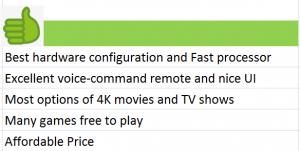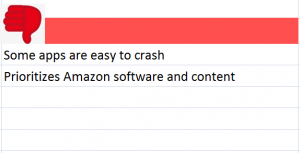 2. Minix NEO U1 – the most worth buying Android TV Box
Minix NEO U1 has been listed as one of "the best TV box" in recent years. That is why I decided to test this one to see if it is worth to be "the best".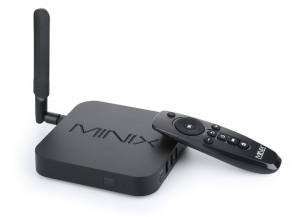 As an ultimate home entertainment media hub, Minix NEO U1 TV box comes with Amlogic S905 Quad core Cortex-A53 processor. This Amlogic S905 chipset supports HD 4K@60fps decoding and H.264/1080P/60fps encoding, which provides a more fluent and vibrant visual effect. This TV box runs in the Android Lollipop 5.1.1 OS, with 2GB of DDR3 memory and 16GB storage, to install any apps of any devices and allow apps and shows to performance smoothly.
Well, I connected this TV box with my TV, and the Minix Neo U1 was fully set up in less than 8 minutes. After that, I directly start updating the apps and then turn them on, to test for performance speed. The remote is responsive and simple, with just a few buttons on it. The Netflix runs well and the KODI runs fine.
The most interesting point is that Minix has an active user forum for better customer service. Once you have any questions of Minix NEO U1 TV box, you could search the solution from the forums. By the way, in the forums maybe you could find and meet someone who has similar tastes and interests.


3. MXQ PRO – the most cost-effective Android TV Box
The MXQ PRO TV Box is also in my list of what I recommended. Why? Well, because it is really great for the price! The price is very cheap. If you are a beginner in choosing TV box, this MXQ PRO TV Box is a best choice for you, which can bring you into a wonderful TV box world with low cost.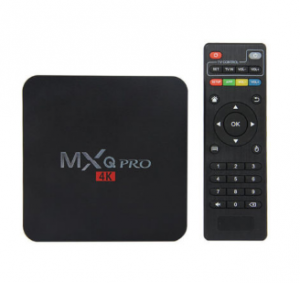 Let's see a short official introduction of it at first. The MXQ PRO TV Box is a smart streaming media player with Android 5.1 system, powered by Quad core Amlogic S905 Cortex A53, just as same as Minix NEO U1 TV box's processor, which can reach the speeds up to 2.0GHz. It supports KODI and 4K x 2K ultra HD video.
So, what does it means? It means that: Android 5.1 could give you the ability to run any Android APP on your TV; the Quad core Amlogic S905 Cortex A53 processor could help your TV has a stable and classic performance for high definition video playback; KODI could play almost all popular audio and video formats; Support 4K x 2K ultra HD video could provide a clearer image quality.
The practical test proves that it is true. With MXQ PRO, I indeed have enjoyed smooth multi-tasking, game playing and movie viewing. I can access TV shows, Movies (old and new releases) and international channels and Sports. Initial setup is very simple, just plug in and let the device do all the work. Under the KODI access 1 channel, it is easy to search movies and TV shows by name and title. You are not at a disadvantage at all in buying this TV box.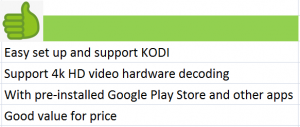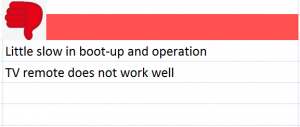 4. MXIII – the most convenient Android TV box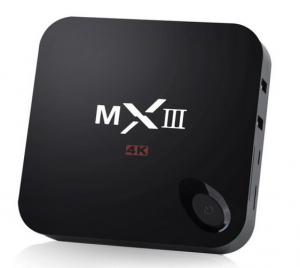 MXIII TV box is powered with Amlogic S802 Quad Core chipset, with 2GB RAM and 8GB storage, to provide more spaces to run the apps. It supports full HD 1080P video decoding, Adobe Flash, HTML5, and KODI.
After I completed the test of this TV box, I feel like it works like a complete computer, because it is very convenient to set up and handle. And it is more convenient and better to connect with a keyboard. Wi-Fi works but is not so strong. When I watching the show, there are no obvious image issues and I enjoy the fluent and HD image quality.
It is another good choice for beginners. And maybe the below words about the Pros and Cons of this TV box could help you decide whether to buy it.