Best Magnetic Charge Cable 2017– Buyer's Guide
|
People use phones in different ways every moment, they almost need to re-charge their phones fully when battery is used up, so if we make phone charge simpler without plug in and out, that's a new trend, right?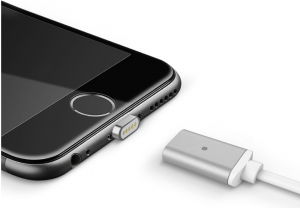 Electronic products, especially Apple products, is one of the most popular products in the United States, it is already one of the indispensable parts in our daily life. Due to the often need to data transfer and charging of electronic products, thus the damage was caused by charging interface easy to happen. But magnetic charge cable can solve this kind of problem.
Charging use magnetic data cables, can be a particularly and novelty new look, with the same functions of iPhone 8P data cable – both positive and negative sides both can be inserted, it will be more convenient in charging and data transferring. Easy to connect, easy separation, reducing abrasion during inserting or plugging out the cable. Imaging using magnetic cable lead to charge and no need to change one by one when cable doesn't work.
It sounds good, right? So, that's something happened!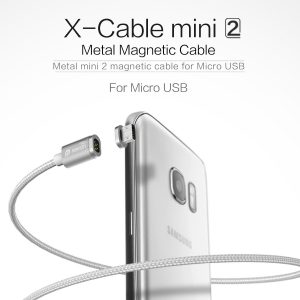 The first magnetic cable on our list is WSKEN Mini2 Magnetic Cable. Maybe you don't know this metal magnetic cable come with LED display for Micro USB, Which supported USB 2.0 data transfer.
Compared with our normal data cable, this magnetic cable provides stronger magnetic and fast charging and data transmission, both sides are made of metal, led light will turn on when it charging. While it is out of charging, the magnetic connector can be used as anti-dust plug. It's not much to say durable and attractive.
With such a simple and durable magnetic cable, how about its price. The Wsken Mini 2 magnetic cable cost $17.98 on Amazon, free shipping on orders over $35.
Pros
1. Extremely strong magnet that is polarized, only attaches one way.
2. Cable is stiffer than the Volador, so it doesn't tangle
3. Indicator light always on (can be a con for some, but very handy when you are fumbling around looking for the cable at night)
4. Come with a tool that lets you take out the dongle
Cons 
1. Included cable management is the Velcro type, which frays the braided cable Should've opted with a slotted silicone one like Volador
2. Micro USB plug holding pins needed to be altered a bit to make it stay in device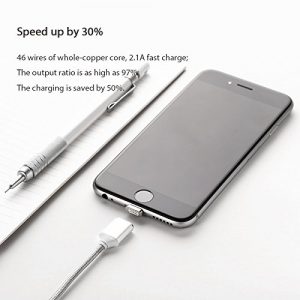 The next up on the list is NetDot lightning magnetic cable. NetDot upgraded magnetic cable, the best magnetic charger in the market, strong magnetic, fast charging & sync for iPhone, but compared with the first cable on our list, there is no led light.
Besides those features that normal magnetic cable contains, NetDot 2nd magnetic cable support iPhone 5, 6, 6 Plus, 6s, 7, 7 Plus, iPad, iPod, etc. With high output and 2.1A fast charge, make faster but stable charging than other data cable in market.
If you are really interested in it, you also should know that this cable only compatible with apple device, besides without LED light. There are 2 pack magnetic cable for iPhone, but in a competitive price. The 2 pack lightning magnetic cable cost $16.90.
Pros
1. 2.1A fast charge and high output.
2. It works great. No need to ruin the inside jack to iPod plugging it in to charge it.
3. Very handy but will not work to well with other box case because the slot at the bottom is not wide enough
Cons 
1. The magnet is not very stro4ng and they fall off easily
2. It does not work on iPhone 7 plus
The next up on the list is Smart & Cool super magnetic data cable, different from the other is itself patented Micro USB cable connector with super magnet for strong connection. Excellent alternatives for drivers and vision impaired persons when charging and/or data transfer is a Must.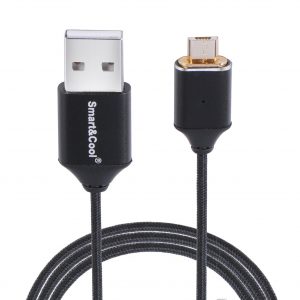 Not only compatible with your Android smartphones, but also adapt with all portable devices with a Micro USB port, such as Android and Window phones, tablets, bluetooth speakers, cameras etc. It is ideal to replace your existing micro USB cable especially in non-easy excess situation.
It supports maximum 2.4A charging current. But if the pins do not fully contact the connect points, the charging current will be less than 2.4A. If the magnetic part gets wet, do not charge your phone. That will damage your charging box.
It will be okay after it's dry. Such a popular data cable, the rest one concern we have with the magnetic cable itself is the price itself, this cable cost only $10.99.
Pros
1. Easy snap on with single hand and no eye sight assistant necessary
2. It is easy to connect with one hand while driving
3. It will also extend the life of micro-USB port because you do not really need to plug in
4. The wire is made of fiber rather than rubber which should make it lasts longer
5. You will never bend and ruin your phone cable plug end again
Cons 
1. You have to play with the connection to get it to charge
2. Does not fast charge a Samsung S7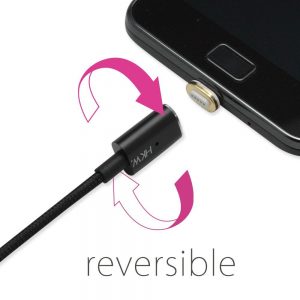 The next magnetic cable on our list comes from HKW, which enjoys high reputation among the data cable's business market. Made from high quality material, with flexible and tough nylon braided style, leaving a simple but strong impression.
This set (cable + magnetic adapter) allows easy connection of the cable with a simple click, no more fumbling around trying to get the cable connected to your device. Simply slide in the magnetic connector (lightweight 1g) and you are ready to go.
What's more, Its rapid charge and data transmit will give you an unbelievable experience; Besides, it supports high speed charge with maximum 2.4A charging capabilities from the 2.4A output USB port and transmit data via a USB port, so it will be working smoothly whether you charging your device or connecting it to your computer. Just enjoy it.
The HKW magnetic Micro USB charging cable sold at $ 17.99, save $ 8 if you buy it now.
Pros
1. Doesn't need tools to remove, I can pull it out with my fingernail
2. Braided cable doesn't feel cheap
3. Reversible charging and reversible connecting to a computer
4. LED connection indicator
Cons 
1. Packaging is cheap
The next up on the list is PortPlugs magnetic charger adapter, what you should know is that only have magnetic adapter, without charge cable. Compared with others, PortPlugs magnetic charger adapter makes charging your android smartphone and compatible devices incredibly easy. Simply leave the micro plug inserted in the charging port and effortlessly snap on the magnetic adapter for a hassle-free charge. And this newly designed magnetic USB charging cable adapter features a recessed charging port to make the connection much sturdier.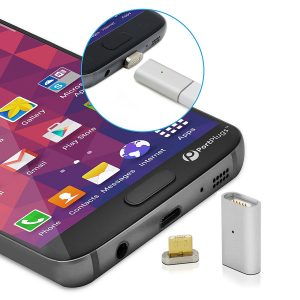 This micro USB plug now lies properly flush against the phone for a secure fit and works with most protective phone cases, it features a neodymium magnet for an extra-strong hold, nickel plated micro USB connector, gold plated needles for efficient power transmission, and encased in a premium aluminum alloy shell. So, especially for people who focus on practicality, that's a good choice.
Not only does this adapter help charge your phone, it also allows for transfer of data in smartphones, tablets, digital cameras and other compatible gadgets. It's also compatible with any of your existing USB data charging cables and Qualcomm or Samsung fast charging.
Besides what we have known, the only one we concern with the magnetic adapter itself is the price itself, this adapter cost $11.99.
Pros
1. The Port Plugs adapter has a better magnet
2. PortPlugs has proper size, and they worked with almost all of my cases
3. This adapter works as it supposed to be
Cons 
1. The charge adapter is connected "backward," the device will still charge, but not at the fastest speed.
2. The magnetic field doesn't automatically align the parts so that they click together seamlessly CoolKo 2pcs 2.4A Magnetic lightning Adapter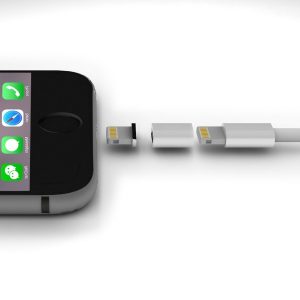 The next one we will would like to introduce to you is CoolKo 2.4A magnetic lightning adapter. Connect the lightning adapter to your Apple device and connect the other side into iPhone cable to charge or your computer to sync data. The narrow lightning adapter is small as sugar cube to fit most cases but strong enough to withstand repeated unplugging and storage. So it works with most iPhone case.
Because of magnetic connection, without plugging and unplugging, both of lightning cable and lightning ports can be protected from frequent use. And even in an unstable or inconvenient station, there is still no difficult to charge your phone smoothly.
And it's as small as a sugar cube, it is easy to carry in your purse or pocket, aiming to be more portable and elegant. Hope it can keep you company whenever you need. Smaller lightningmagnetic adapter cost $3.29 for 2 packs.
Pros
1. Come with Mini Portable Led Light, and 2 cable protector
2. With a reinforced part that protects the cable from damage to the port end from continued bending
3. The entire cord is covered in braided material for additional protection
4. It is easy to put on and take off as needed
Cons 
1. Hard to get on the cord and they don't stay on
2. It is too small for the cord and does not closes properly
The next up on our list is GEEPIN lightning magnetic cable, 3.3ft high speed charge USB line with lightning connector for iPhone 6, 6 plus, iPad, etc.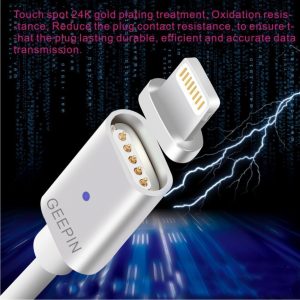 This charge cable also come with LED indicator, better to help you charge even in a dark environment. By the way, LED indicator for showing the working status of the cable, white light for charging.
GEEPIN has improved magnetic power and charging speed, surge protection chip inside to protect the device. GEEPIN magnetic cable can reduce the insert and often set aside trouble and damage of the data line, and often reduce cable bending caused by the rupture as other magnetic cables. Charging can realize single hand and one hand pull the cable.
If you are interested, you also should know that when you use the power adapter to charge, cable work is reversible. But when you use a computer to transfer data or charge, cable work is irreversible. And the GEEPIN apple lightning cable need to use professional, original adapter to satisfy with apple charging need adequate power.
This GEEPIN Apple lightning to USB magnetic cable cost $11.27 on Amazon.
Pros
1. It is a magnetic connector, but also can be used as anti-dust plug
2. Improved magnetic power and charging speed
3. Cool and unique lightning cable for iPhones, iPads & iPods
4. It is easy to put on and take off as needed
Cons 
1. The magnetic interface is not stable
2. It works but only if you don't have any kind of phone case
The next one is round magnetic charging cable comes from SOJITEK. Special outlook with round detachable tip design, with strong magnet can hold 1LB table up side down. But you need to pay attention to pull out the cable by SIDEWAY, not STRAIGHT OUT.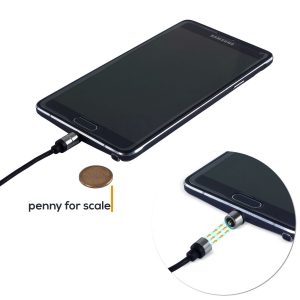 The magnetic cable included in this bundle comes with Micro-USB tip but can also be used with Type-C and Apple Lighting magnetic connector tips, but it's not included. You can buy it if you're really appreciate it. Something different is that cable ONLY use for charging purpose. NOT for FAST charging. NO data transmission function. And it may not be compatible with some phone cases due to round detachable tip design. So please check it when you buy it.
Maybe someone will think that there is no enough advantages to compete with others', but perhaps you don't know that this particular product works great, having a good work experience. It has performed flawlessly even used for a long time. The magnet is plenty strong to hold the connection to the phone, and as a matter of fact all you have to do is dangle the end NEAR the connector on the phone, and it magnetically right into place, without even having to guide it.
This magnetic cable cost $14.99 on Amazon.
Pros
1. They're very strong magnet connections
2. Works great so far. Even charges quickly
3. Special round detachable tip design
4. Overall, they feel, look, and work pretty freaking good
Cons 
1. It is a little big, it does stick out of the phone a bit
The next up on our list is Mushan nylon braided magnetic cable. This data cable support quick charge to your Android Smartphones at Max 2.4A as well as data transfer/sync. Double side auto absorb.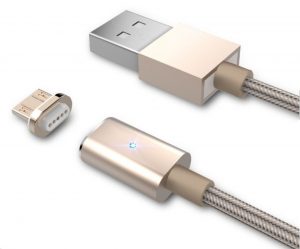 So how about other details about this cable? High quality metal alloy connector shell with Non-Tangle nylon fabric woven around the wiring to ensure a more durable charger with a longer lifespan. Pull Tested over 30,000 times to prove a greater Longevity. But in our common sense, we should keep in mind that due to magnetic, please avoid contact between magnetic end and iron objects to prevent short circuit and clean the magnetic end frequently, which can extend service life.
And it supports charging for most popular Android phone and tablet (with Micro USB port), like Samsung galaxy, Xiaomi, Meizu metal, Huawei, HTC, Google, Blackberry. So just plug in the adapter into your phone and the magnets on the power cord and the adapter automatically connect, there is a blue led on the power cable that lets you know that it is charging, it is a very bring light, and can be a little bright at night. Then, it turns to be a light source, right?
The Mushan magnetic cable cost $14.99, enjoying 32% discount if you buy it now.
Pros
1. Max output current up to 2.4A, make charging faster
2. Made of high quality material, shock-resistance, anti-corrosive
3. Bight LED light display
Cons 
1. Cannot switch ends between the cables
The last one on our list is Mr.Pro Apple magnetic cable. Unique Combination of both metal and magnetisim. Connect with 1 second, both sides can be charging. 2400mAh electric current can be all owed, so don't worry about overloaded charge.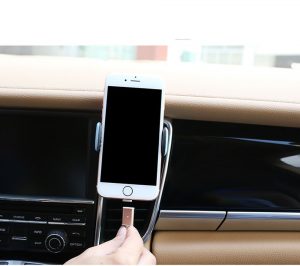 What a main point is that cable has MFI certificate, so don't worry about the quality of the cable, and they offer the 1 replace warranty, anytime you feel any problems, you can feel free to return or place it. That's amazing for people who always concern about the service life of data cable. Another bonusis this cable comes in a round zipper case, to protect your magnetic cable better, and send you a perfect package at the same time.
It also worked great on a iPad, this should work for any device that charges with lighting port. These little lighting plug right in, good and close-fitting. Magnetic link is strong enough to stay on, and effortless enough to take off to avoid inner port harm. The light on the end of the charger which turns blue when it is charging and green when it is fully charged. Help you know the charge situation directly.
So one of the main important factors come here, it cost $10.99 on Amazon.
Pros
1. The LED indicator is an awesome feature
2. The magnet is pretty strong
3. It is easy to hook up
4. 2400mAh electric current can be all owed
Cons 
1. The wire is very thin