Mini Portable Pen Size Monopod Wired Remote Selfie Stick Phone Camera Holder – Blue
|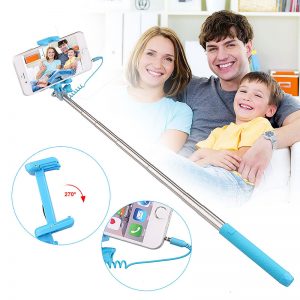 Wholesale Mini Portable Pen Size Monopod Wired Remote Selfie Stick Phone Camera Holder – Blue
Wholesale Price: 1.75£
MOQ: 20 pcs
Product Description:
Mini Portable Pen Size Monopod Wired Remote Selfie Stick Phone Camera Holder – Blue. Wired Remote Selfie Stick Monopod with built-in with Remote Control Shutter, and no additional shutter needed. Don't need to charge Snap away. Take the line without charge, just press the button on the monopod to take picture.
Features:
1.Foldable, lightweight, easy to carry
2.Easy to use, just plug and play
3.Non-slip rubber handheld with embossed pattern
4.The pipe is made by stainless steel with groove on it, never worry the pipe will spin
5.Equipped with rearview mirror
Specifications:
1.Weight: 138g
2.Package Dimension: 17*4.5*3.2cm
3.Folded Length: 13.4cm
3.Max Length: 70cm
Includes:
1 x Selfie Stick
1 x Lanyard
1 x Pouch
1 x Retail Box
Note:
The software can be download free from the android market, support 360 camera software and other camera software.