GS1 UK – Buying British in 2017
|
About GS1 UK
GS1 UK is a community of over 31,000 members working in retail, healthcare and more. We're one of 112 independent, not-for-profit GS1 organizations operating across 150 countries worldwide. We help businesses automate and standardize their operations, supply chains and data through the common language of GS1 global standards.
The rise of small British firms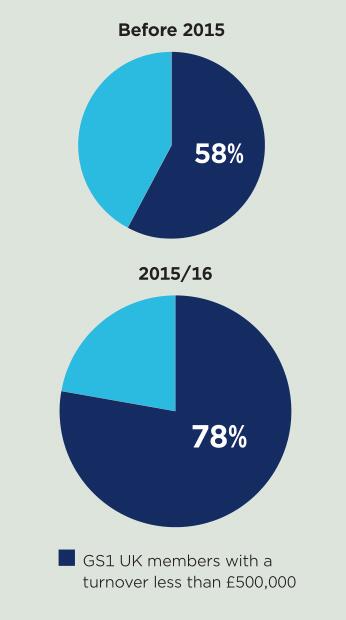 The Brits love an underdog story – think Eddie the Eagle or Susan Boyle – with former non-league footballer Jamie Vardy spearheading Leicester City to an unlikely title triumph last season, being the most famous recent example. But this affinity to the unlikely hero isn't limited to the sporting arena, with shoppers just as likely to back the small guy at the checkout.
Google may own the fairytale narrative of huge companies that started from a garage, but there are similar success stories this side of the pond too, such as Dyson and Virgin. And while there will always be some products and services we are happy to go to major multinationals for, supporting the local start-up remains high on the agenda too. There will always be products that consumers are agnostic about their provenance – or may only be able to obtain from international companies – but increasingly people want their food, drink and clothing to have fewer air miles.
GS1 UK membership statistics bear this out, in that more modest-sized new joiners are joining than previously. Before 2015, 58% of the overall membership base had a turnover of £500,000 or less, but in 2015/16, this rose to 78%, suggesting a shift towards smaller businesses. GS1 standards help businesses automate and standardize their operations, supply chains and data which enables them to expand and grow. They usually join GS1 UK at the start of their journeys, making these statistics all the more pertinent.
GS1 UK membership by industry
Businesses from more than 20 industries constitute GS1 UK's 31,000-strong membership, with those from the food and grocery sector accounting for the largest single percentage (20%). It remains one of the fastest growing sources of new members too, with 12% of joiners in 2015/16 originating from this sector.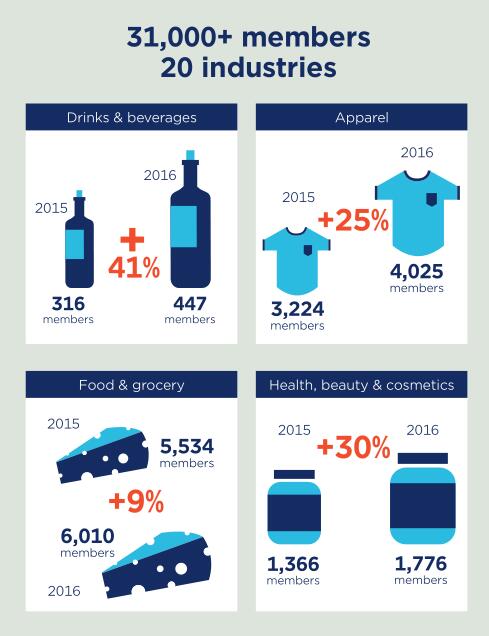 The apparel industry was the most significant source of new joiners in 2015/16, with 21% of companies coming from this field, pushing their total beyond 4,000.
Drinks and beverages account for a relatively small percentage of overall members, but the rate at which they are joining GS1 UK has increased significantly. Manufacturers in this space represent 3% of new joiners in 2015/16 swelling their ranks by 41% from 316 to 447 over the 12-month period.
Along with food, drink and apparel, another area that has considerably grown its proportion of membership – and remains a healthy export market – is health, beauty and cosmetics. It accounts for 6% of total companies overall, but represented 11% of new members in 2015/16 meaning it increased its real numbers by almost a third from 1,366 to 1,776.
GS1 standards are used by all leading online marketplaces
All major online marketplaces – including Amazon, eBay and Google Shopping – now use GS1 standards to help manage their product catalogues. Andonline sellers use GS1 standards to uniquely identify all their products. This makes it easier for online shoppers to find, compare and buy what they're looking for, which means happier customers – and more sales.
GS1 standards make it possible to trace every step in a product's lifecycle
– from source to consumer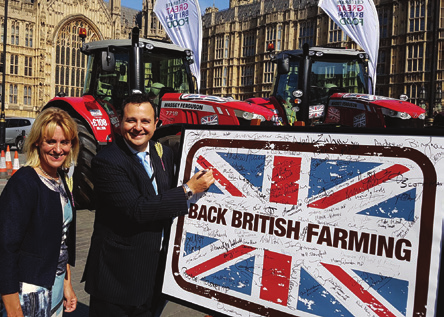 GS1 standards enable traceability and visibility in the supply chain. Retailers and manufacturers track and trace materials from source to the final finished product. Knowing exactly where goods are at any point in time (or where they have been) and when they are scheduled to arrive is critical. It's this sought-after visibility that is enabled by using GS1 standards. Traceability can also help reduce waste, help fight counterfeiting, enable targeted and effective recalls and help consumers be informed on key product attributes – such as ingredients and allergens.
GS1 standards help brands, logistics partners and retailers deliver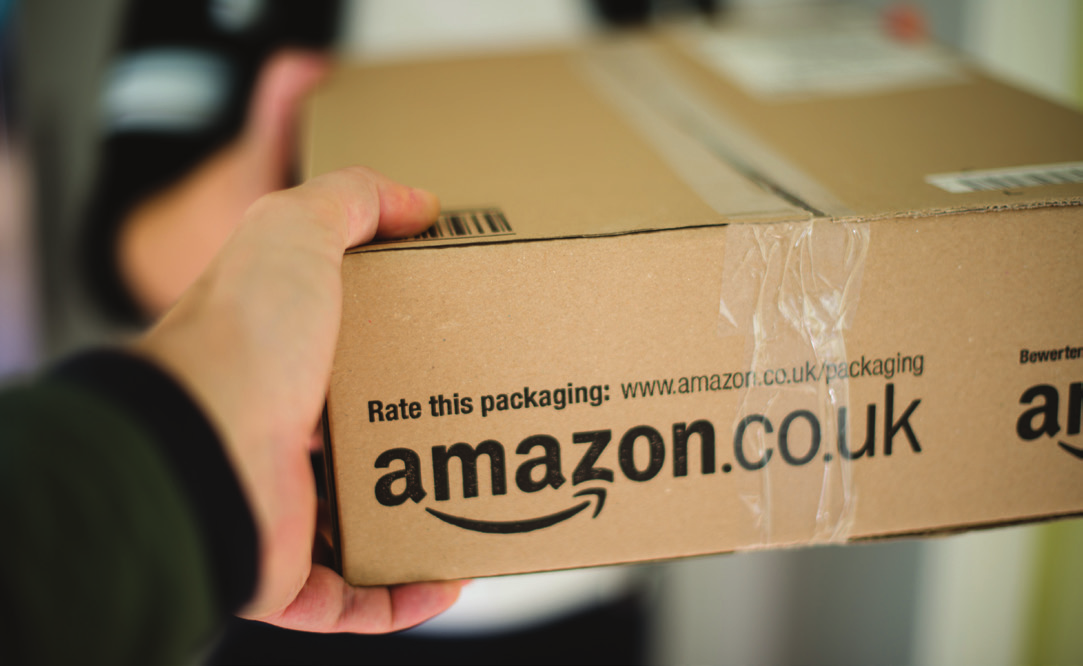 GS1 standards make logistics easier and more effective by driving efficiencies, improving product flow through the supply chain and of course by improving the customer experience through increased product availability. Customers are increasingly expecting to seamlessly research, purchase and interact with the products they want to buy, no matter where they shop. GS1 standards help meet the challenges of omnichannel commerce and satisfy consumer demands and expectations before, during and after purchase – whether they're shopping online, in-store or via mobile.
GS1 UK's unique position, as a conduit for British businesses to trade, offers us valuable insight into trends and patterns in consumer behaviour. Our management data adds further weight to the argument that consumers are now becoming more domestically focussed when it comes to their spending habits.
*Source: From GS1 UK Report